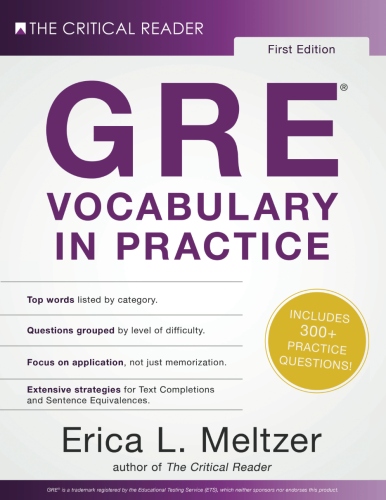 I've been so caught up in revising my SAT and ACT books that my new GRE vocab book has unfortunately gotten very short shrift. So I'm taking a quick breather and letting everyone know that I'm offering review copies of GRE Vocabulary in Practice to those who are interested. (US and Canada only.) The book should be on Amazon within the next week or two.
Whether you're planning to apply to grad school or are just feeling nostalgic for old SAT vocabulary (yes, the GRE is still written by ETS, so it draws from the same pool of words), the 300+ Text Completions and Sentence Equivalences in this book are sure to provide hours of good, clean vocabulary fun. And if you're in the mood for some traditional vocabulary study, the book includes lists of must-know prefixes and roots, top words by category, and common alternate meanings.
Full disclosure: if you used my old SAT sentence completion workbook, some of the material might seem familiar. I did recycle some things, but I didn't just take the old book and slap a new label on. Everything has been reworked very carefully to be aligned with the nuances of the GRE.
One thing I'd like to emphasize is that  the book is called GRE Vocabulary in Practice for good reason: it's designed to provide the kind of test-style exercises that straight-up vocabulary books or popular apps (like, say, Magoosh) don't. Yes, there are vocabulary lists, but they're not the point of the book.
As I discovered via a couple of freak-chance conversations with prospective grad students right around the time I finished the first draft, the fact that straight-up vocabulary knowledge alone is no longer enough to score well on the vocab section of the GRE is not general knowledge — a lot of people don't even seem aware of how the test has changed to emphasize vocabulary in context in the last few years. If you know someone planning to take the GRE, please make sure they know that, even if they have zero interest in my book!
My colleague Mike McClenathan (aka PWN the SAT) used to call the old SAT a "math-flavored test," and I think it's fair to call the GRE a vocabulary-flavored test. In some cases, the vocabulary itself is effectively beside the point. Some passages are more like mini logic puzzles. It doesn't matter that the answers are easy; the challenge is figuring out what makes sense in the blank(s). They actually remind me of some questions on  the Critical Reasoning section of the GMAT  — which is hardly an accident since many business schools are now accepting the GRE in place of the GMAT. (And some law schools, including Harvard and now Georgetown and Northwestern, are now accepting the GRE in place of the LSAT as well.) The presentation is a little different, but the underlying skills are pretty much the same.
I normally hesitate to use the word "tricky" in regard to standardized tests because it conjures up the sort of cheap, Princeton Review-esque "just do these little things and you can beat the test" mentality that I generally loathe. In the case of the GRE, however, I think it's justified. I'm not sure how else to describe a test on which answers can consistently be both acceptable and wrong.
Sentence Equivalences, for example, don't just test whether you understand what sort of word makes sense in the context of a sentence. Rather, they test whether you can do that while adhering to the additional requirement of identifying two words that create the same meaning when plugged in — words that may or may not be synonyms. It's not uncommon to look at a question and think, these are easy words — why can't I figure this out? I cannot emphasize enough how important is to understand the rules of the game, so to speak.
There's also a big mental component: overriding your first instinct, especially when your first instinct is grounded in solid logic, is not easy. Unfortunately, that sort of "soft" skill requires practice as well.
Even I've gotten fooled once in a while. And on so-called *easy* questions, to boot.
Anyway, if you'd like a review copy, please email thecriticalreader1@gmail.com with your info. I just ask that you be genuinely willing to follow through on writing a review. I know everyone's busy, but please.